In part one, I showed the unboxing of the pot I received for testing. This is a very large, and well-designed evaporator mainly used for LN2 and LHe. I decided I'd just recreate the thread with part one and two so you guys can see it all in one place:
I know some of you saw my recent dry ice runs on my Phenom II rig. In a few threads I discussed that for my next run I will have a different pot to play around with — and I assure you that promise was kept.
I got in touch with a friend and he agreed to let me take one of his cooling pots for a spin. Aaron Schradin of LN2Cooling.com has lent me an excellent pot to play around with and review for all of you guys. This pot is usually meant for the purpose of running under LN2 and LHe4. This is seen in the many AMD world record breaking overclocking attempts, which can all be seen over at amdblackops.com. However I will be playing around with the dry ice performance of this pot, which has mostly been overlooked until now.
The new little toy in town is in fact not little at all. This pot is huge. Much larger than the previous aluminum cooling pot I have been benchmarking with. There is also a lot of mass to work with which in turn equals to better cooling. Combine that mass with high quality copper and lots of surface area and you have yourself an excellent cooling pot.
The Pot
I was interested in the packing, a shipping tube made specifically to ensure this evaporator can be safely shipped anywhere.
Here's a look at whats was included with my package. The hardware, mounting kit, and of course the copper base and aluminum reservoir.
Here is a closeup of the base. A little tarnished, but nothing a little bit of polish can clean up. Usually tarnished copper can be cleaned with ketchup as well.
This pot comes with a drilled in temperature probe hole for to ensure the pot is cooling to maximum capacity.
Here is the base cleaned up. A perfect mirror. It also shows the mounting hardware close up. These springs tightened up will ensure just the right amount of pressure bearing down on the cpu.
The mounting kit comes with the ability to use this pot with all current sockets on Intel and AMD platforms.
The pot threading. It was important not to tighten the reservoir too much when screwing it on to the base or else it will become extremely difficult to remove.
The pot with both parts screwed together is around 16cm tall. That is also about 6.3 inches.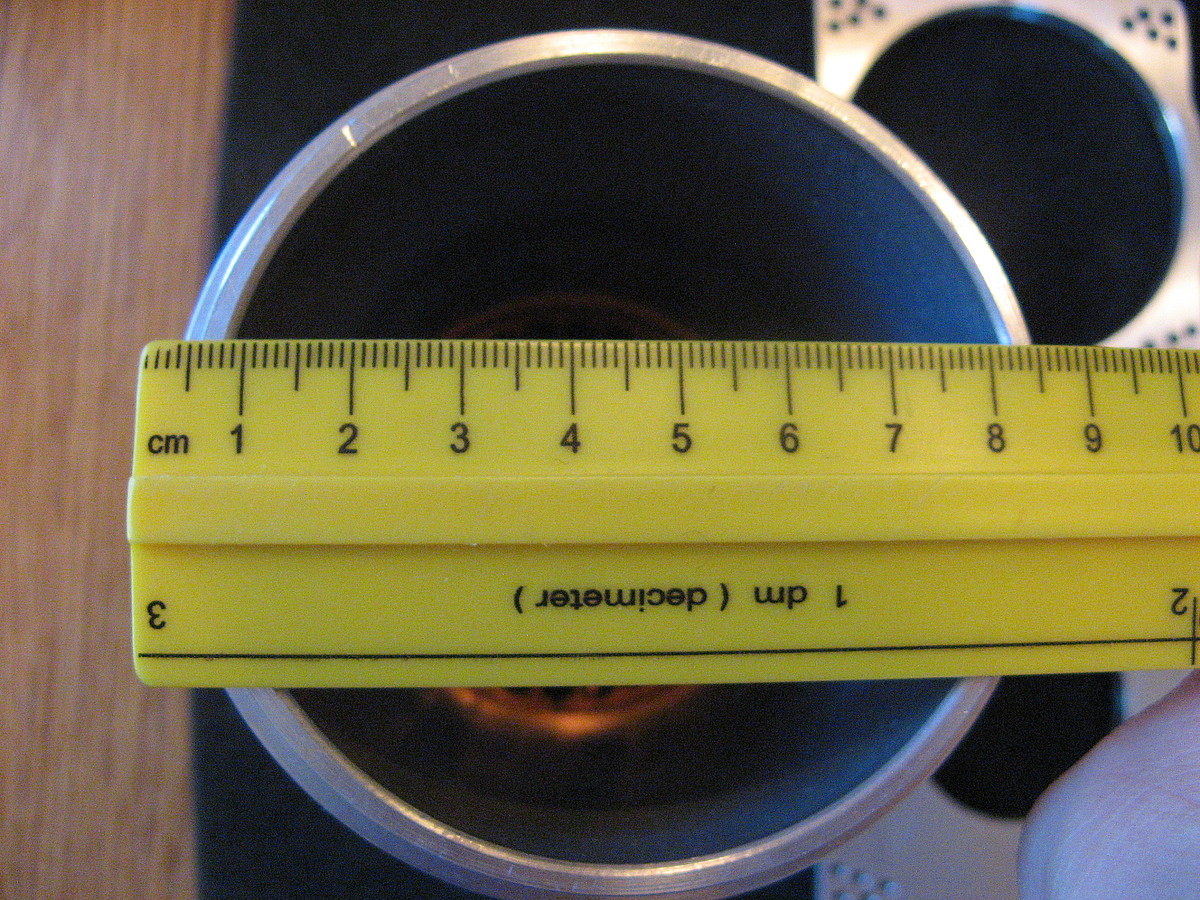 The diameter of this monster is approximately 8.5cm. Once again that is about 3.3 inches.
And finally a shot of the internals taken from LN2cooling.com
System Setup
AMD Phenom II X6 1090T – Batch 1018EPAW
Gigabyte 890FXA-UD5 Rev 2.o
Mushkin Blackline 4GB DDR3 – Stock @ 1600MHz 6-8-6-24
Sapphire Radeon 5870 1GB GDDR5 – Overclocked @ 900MHz/1200MHz
PC Power And Cooling 750W PSU
LN2cooling.com LN2 Evaporator Cooling Pot
20 Pounds Of Dry Ice
Plumbers Putty
Dielectric Grease
The pot is filled with crushed DICE. I used a chopstick to stir the mixture.
Setup during the run.
Slushie anyone?
Frosted over.
I thought this was a pretty cool frost pattern that formed after I removed the cloth from the pot.
At the end of the run. Snow all around.
The Results
Benchmarks:

CPU-Z
SuperPi 1m
SuperPi 32m
wPrime 32m
wPrime 1024m
PiFast
3DMark 06
For the results, I will be comparing the scores on this pot to the scores from my last run on my Duniek Aluminum pot.
CPU-Z  –  Core #1 5.579GHz @ 1.744Vcore – Validation
For this CPU-Z valid I went all out overclocking my chip's strongest core, core #1. As you can see I disabled all but 2 cores, and ran down a bunch of other settings to get this. Before settling on 5.579GHz, I was able to hit 5.624GHz but was not able to validate without crashing. Maybe I will make this on my next run. My previous run on the aluminum pot only netted me a max validation of 5.547GHz.
CPU-Z  –  All 6 Cores, 5.500GHz @ 1.696Vcore w/ 3000NB and 1000MHz 7-9-6-15 memory
During my last run, I was only able to push 5.4GHz all 6 cores. This goes to display how the increased mass and the copper material of this pot makes for more efficient cooling and coping with the load of all 6 cores pushed to 5.5GHz.
SuperPi 1m  –  12.625 seconds
My old time on the aluminum pot was 12.797. SuperPi 1m is highly inefficient on Gigabyte boards for whatever reason, but I still managed to surpass my old score and net the top 1m DICE score for this processor on hwbot.org.
SuperPi 32m  –  12 minutes 58.219 seconds
Due to the fact that this pot can hold down better temps under load, I was able to increase cpu speed in contrast to my previous run. I broke the 13 minute barrier for 32m on DICE with this processor.
wPrime 32m  –  4.765 seconds
Not much to say here. I'm thinking I could have fine tuned my setup for a higher score, but I settled at this time. For my next run I will get a faster time.
wPrime 1024m  –  151.25 seconds
I was astonished at the pots ability to handle the load of all 6 cores stressed. All extreme benchers know that 1024 takes a bit of work to pass at higher frequencies. I managed to pass at 5.125GHz. The previous pot would not budge at over 5GHz.
PiFast  –  20.50 seconds
Once again, another untuned run. However I surpassed all of my personal bests with this one.
3DMark 06  –  28306 3DMarks
For the first time in a long time, I decided to test out some 3d stuff again. I did this mainly to gauge how the evaporator handles 3d load. This is where I saw my biggest improvement from my old pot. During one of my 955 X4 BE runs, I found myself only able to run 06 at 4.520Ghz using the aluminum pot. I was able to push out and run 5.25GHz stable under the load of 3dmark06.
That is all for the results. However, here are the improvements I made with the new pot summarized into one chart:
Conclusion
This is an excellent pot for all types of extreme cooling. Remember that this pot is not primarily for DICE. It begins to shine once under LN2 and LHe. The 99% pure copper design, combined with the excellent internal surface area and the mass of the base makes for extremely efficient cooling. The install is pretty straightforward as well.
This pot helped me break all my personal best's that I made on my previous aluminum pot. Half of these runs still have headroom to tune as this pot is very efficient. In the BIOS it read -75C at almost all times, which is only 4C above the actual temp of dry ice itself. This is next to impeccable cooling performance. Any extreme bencher would love this evaporator.
I would like to thank Aaron Schradin over at LN2cooling.com for lending me this pot to play with.
Also, I should have another overclocking video of this run posted up on my youtube channel soon.